Chaise de Bureau en Cuir Pleine Fleur Cognac, Accoudoirs et Roulettes Alu Poli Version Haute – Livio
Our Livio Chrome High Back Arm Chair with Castors is the most iconic representation of mid-century modern design.
High version
Cuir Pleine Fleur Légèrement Grainé
Very Comfortable High Density Foam Seat
Ergonomic, Backrest and Height Adjustable 
Including eco-contribution :
0.60

€
Manufacturer direct sales
Livraison Express (2-7 jours)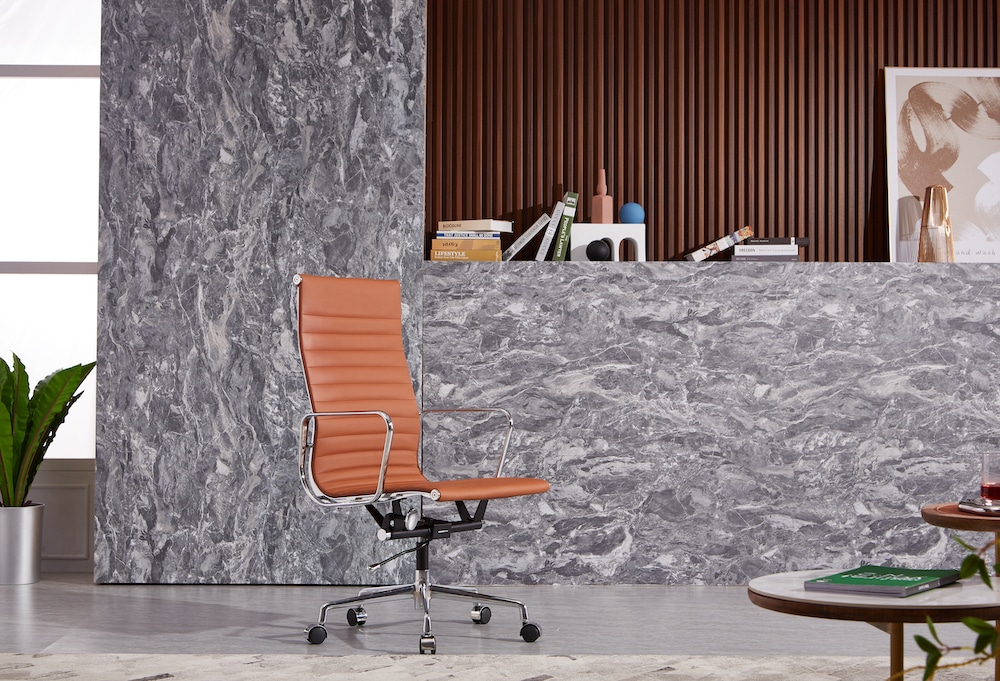 The Italian Cognac Leather Office Chair with Full Chrome Aluminium Flowers is one of the most recognized chairs in the design world. It is characterized by its minimalism with a lot of style. Without neglecting resistance and comfort.
A upholstered seat in premium Italian leather leather and a chrome-plated aluminium chrome-plated aluminium frame. Its cushions are filled with high density foam for your greatest comfort. Ideal for long hours at the office!
This high desk chair will look great in any office. Pany colours are available on stefanodesign.co.uk . Don't wait any longer and choose yours!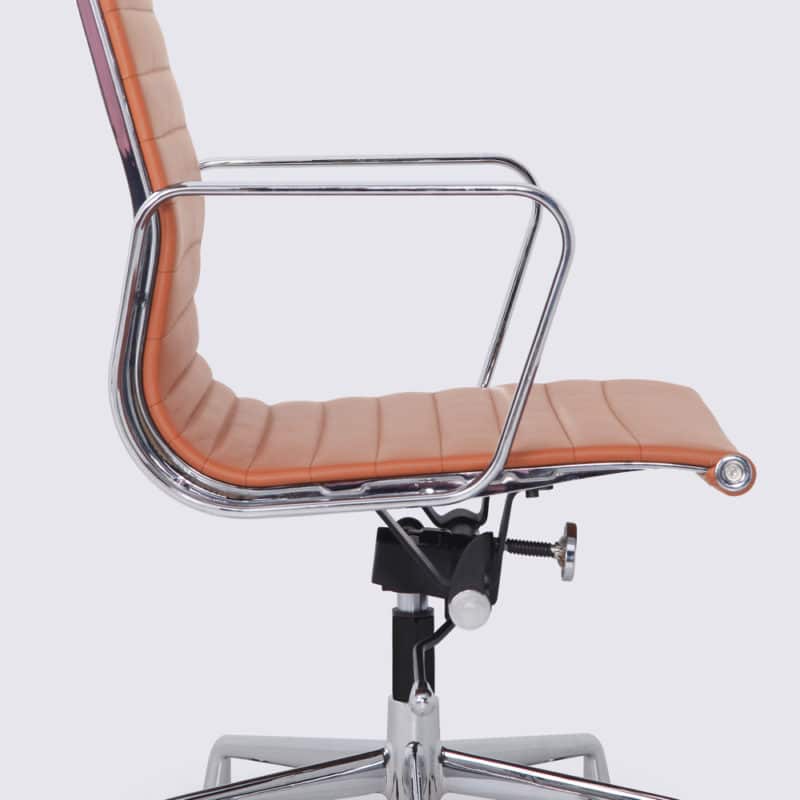 Chrome-plated aluminium frame
Our Alu Chromed office chair in black aluminium is one of the most ergonomic versions of our office chairs. Solid aluminiumcastorsfor better mobility.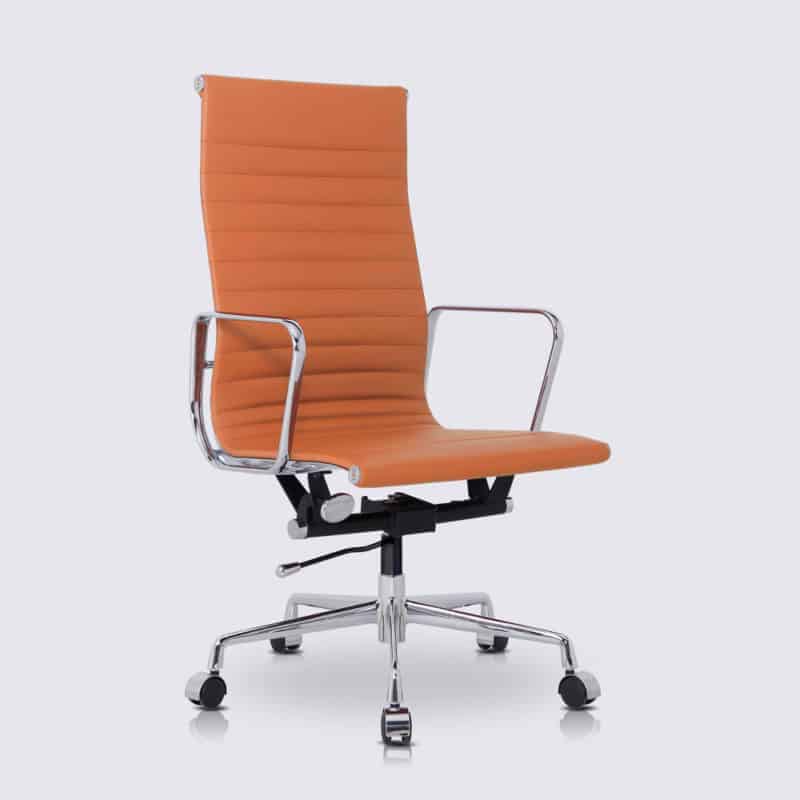 Leather and high density foam
Nous utilisons un cuir pleine fleur italien, qui se distingue par sa texture, sa douceur et sa résistance au fil du temps. Le siège est rembourré avec des bandes horizontales de mousse haute densité permettent au cuir de s'adapter à votre dos. Les parties sans contact sont en cuir synthétique (dessous et côtés).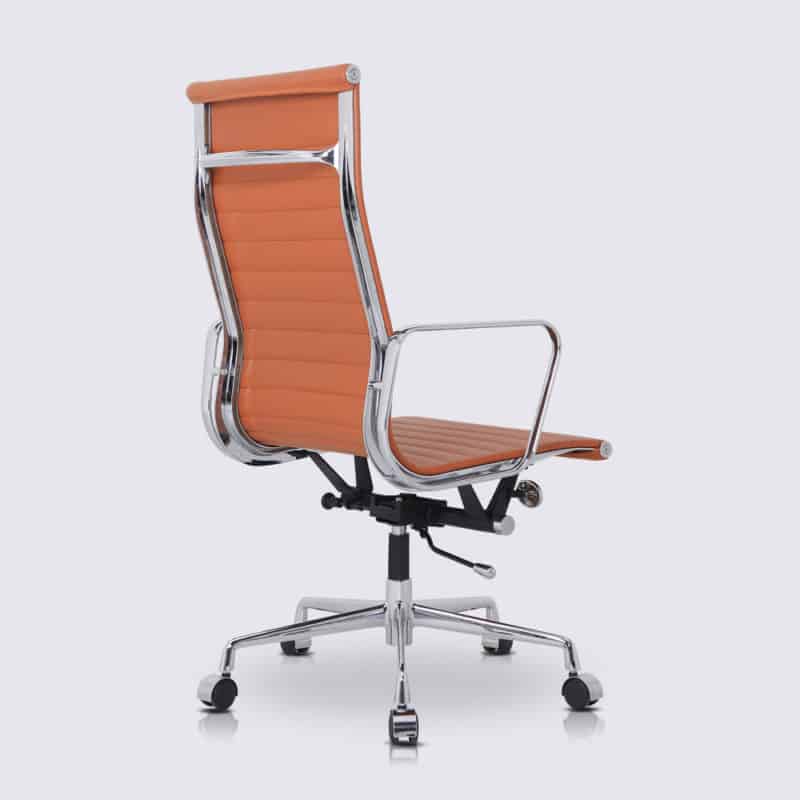 Height and Seat Adjustment
Seat height adjustable by gas piston. Reclining backrest for maximum comfort.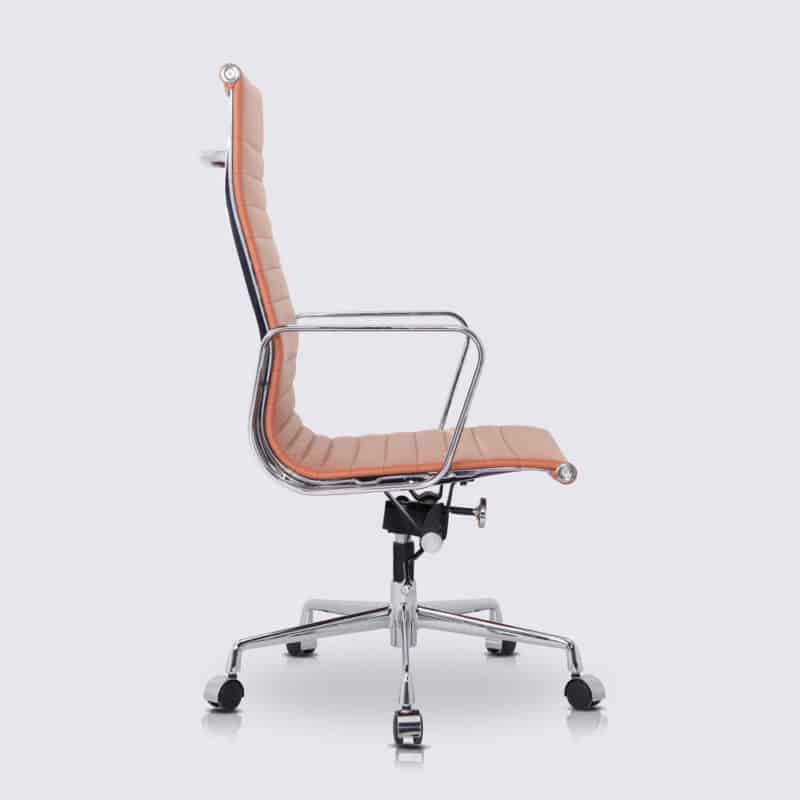 Width: 59cm
Depth: 63cm
Maximum height: 116cm
Height: 106cm
Backrest height: 65cm
Seat height: 45cm
Maximum seat height: 55cm
Assembly: Only takes 10 minutes
Poids : 16 kg


Our deliveries are made by appointment from Monday to Saturday from 7am to 8pm.
Choose a delivery method when confirming your order:
More than 500 collection points available in France.
Delivery at the foot of the house.
Delivery to the room of your choice.
Delivery, assembly, installation and removal of packaging.
Top très bonne qualité pour cette version XL. Communication, livraison parfaite . Merci à toute l'équipe de Stefano
I was very pleased with the chair, which was delivered in a neat package with clear and well-written assembly instructions. I am very pleased with the quality of the materials used, whether it be the leather upholstery or the wooden shell or even the base. I am very happy with my purchase and the availability and friendliness of the contact person on the website/store, who is easy to reach on a non surcharged telephone number.
Super fauteuil, super qualité et super bien emballé.
Parfait comme l'original!
I am very satisfied with the armchair and its ottoman, good quality products. The delivery was fast and very careful, nothing to complain about, perfect, thank you
Very nice replica very faithful to the original. Nice leather, wood, well made finishes. Nice quality
J'avoue que j'étais un peu septique quant à la qualité et les finitions. Mais c'est au-dessus de mes espérances. Parfaite réalisation, matériaux de qualité. PARFAIT !!!!!
Très confortable, conforme aux photos.
Qualité toppissime. Qualité du produit excellent, emballage très bien soigné, très bon relationnel: personnel toujours à l'ecoute...très très satisfait de mon achat, fortement conseillé !!!
The delivery went well, I was able to schedule the appointment with my phone. The packaging is neat, the chair is comfortable and well made. I am very satisfied.
Nous sommes ravis de notre table!
Very nice imitation. Perfect for what I expected. Very comfortable. Good value for money at ~50% off. Easy to assemble, no squeaking.
Produit de qualité, livraison à l'heure. Montage bien guidé
Superconfortable. C'est le deuxième fauteuil que j'achète la marque Stefano et les deux sont excellents.
Très bonne surprise. La qualité est au rendez-vous, parfaitement emballé, facile à monter. On verra la solidité à l'usage, mais en tout cas le look est parfait.
The quality seems to be very good (to be seen over time for the leather). The service and delivery are good. The packaging and assembly documentation is also very clean and well explained. The only negative point concerns the screws between the backrest and the seat which were difficult to screw in some cases. I would definitely recommend this product.
I am very pleased with the delivery and the quality.
The chair looks great and the French manual is very well explained, I recommend this company.
Franchement à ce prix, la qualité est vraiment au rendez-vous.